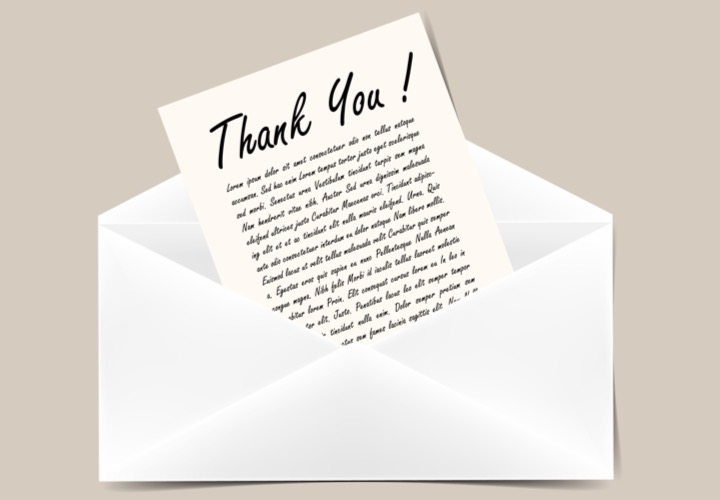 Congratulations – you landed an interview for your dream job and answered all the questions the interviewer asked you.
Now is the time to come home and wait for your phone to ring, right?
Not if you really want to get the job.
Your next step after leaving the interview should be to send your interviewer a thank you email. It doesn't have to be elaborate or poetic, but you should thank them for taking the time to talk to you.
Why should you write a thank you email?
A A survey of employers by Career Builder found that 22% of employers are less likely to offer a job to a respondent if they don't receive a thank you note.
Eighty-six percent of those same employers feel that a missing thank you note shows a lack of ambition and follow through.
Sending a thank you note is another opportunity to sell yourself and your skills and set yourself apart from the crowd.
This shows how interested you are in this position and can tip the scales in your favor if it is a tough competition between a few candidates.
What should you include in your thank you email?
Now that you know why you should write an email to your interviewer, what should you include? Here are a few things to keep in mind:
The name of your contact

– Please make sure you address the hiring manager by name and triple check that you spelled it correctly. It is not good to start an email with "Hi, interviewer".

The position you interviewed for

– They may have interviewed a number of candidates for different roles. Help them remember you quickly.

The name of the company

– This is a pitfall to avoid, especially if you are using a letter template to send your thank you notes.

What you can offer the business

– Write down what you can do for them, not what they can do for you.

A link to your CV (or your LinkedIn profile) –

Even if they have a copy of your CV on file, providing a link to a digital copy of this information can make it easier for your interviewer to find you.

If you have created a public CV on Resumonk, you can share this link in the signature of your email.
A memorable detail of your interview –

Add something in your email that will set you apart from the rest of the people your interviewer may have spoken to that day. It could be a reference to a tricky question you answered, a debate you and the interviewer had, or something unrelated you talked about, like a shared hometown or favorite sports team. .
When should you send your thank you email?
Do not wait more than 24 hours to send your thank you email.
Your best bet is to send it out soon after your interview. Not only does a quick follow-up look good to the recruiter, but all the details are fresh on your mind, so you're less likely to mess up with names or titles.
What should you leave in your thank you email?
There are a few things you should definitely not include in your thank you email:
Your expectations – Unless he has already offered you the job, don't ask about salaries, bonuses or parking. Record these questions for your in-person conversations.
Typos

– Nothing looks worse than gross typos or grammatical errors in your thank you email. Reread, reread, then reread again. Then get someone else to read it again, just for good measure.

Text-speak

– Don't end your sentences with smiling faces or use shortcuts like "LOL" etc.

Deadlines or ultimatums

– Do not tell the person you are talking to that you expect to receive a response before a certain date or time in this particular email. Remember that you send it out soon after your interview and it will take them some time to make a final decision. Don't rush right now.
Thank you email template
If you're not a seasoned writer or just don't know where to start, here's a quick template that you can easily customize to help you craft the perfect thank you email for your interviewer.
Your subject line should always start with 'Thank you', and if you want to add a little more detail, include the title of the job you were interviewing for, for example:
Thank you – Content Writer Interview
Start with a simple greeting and an introduction. Write the name of your interviewer as they introduce themselves – use their first name if they did so during the interview. Otherwise, use their last name and the appropriate honorary title, such as Mr./Ms/Ms, etc.
Dear (interviewer name),
Thank you for taking the time to talk to me today about the (job name) opportunity with (company name).
I enjoyed talking with you about (detail to remind the interviewer who you are).
I am very excited about the opportunity to join the team at (Company Name) and look forward to getting down to business doing (what you bring to the company – marketing, customer generation, etc.).
I look forward to hearing from you soon to learn more about the next steps in your hiring process. If you need more information from me, please do not hesitate to contact me.
Best regards,
(Your name)
Resume: resumonk.com/your-name
Then just read again until you are sure there are no errors, then hit send. It & # 39; s that easy.
Go that extra mile and stand out from all the other applicants. The best for your job search!